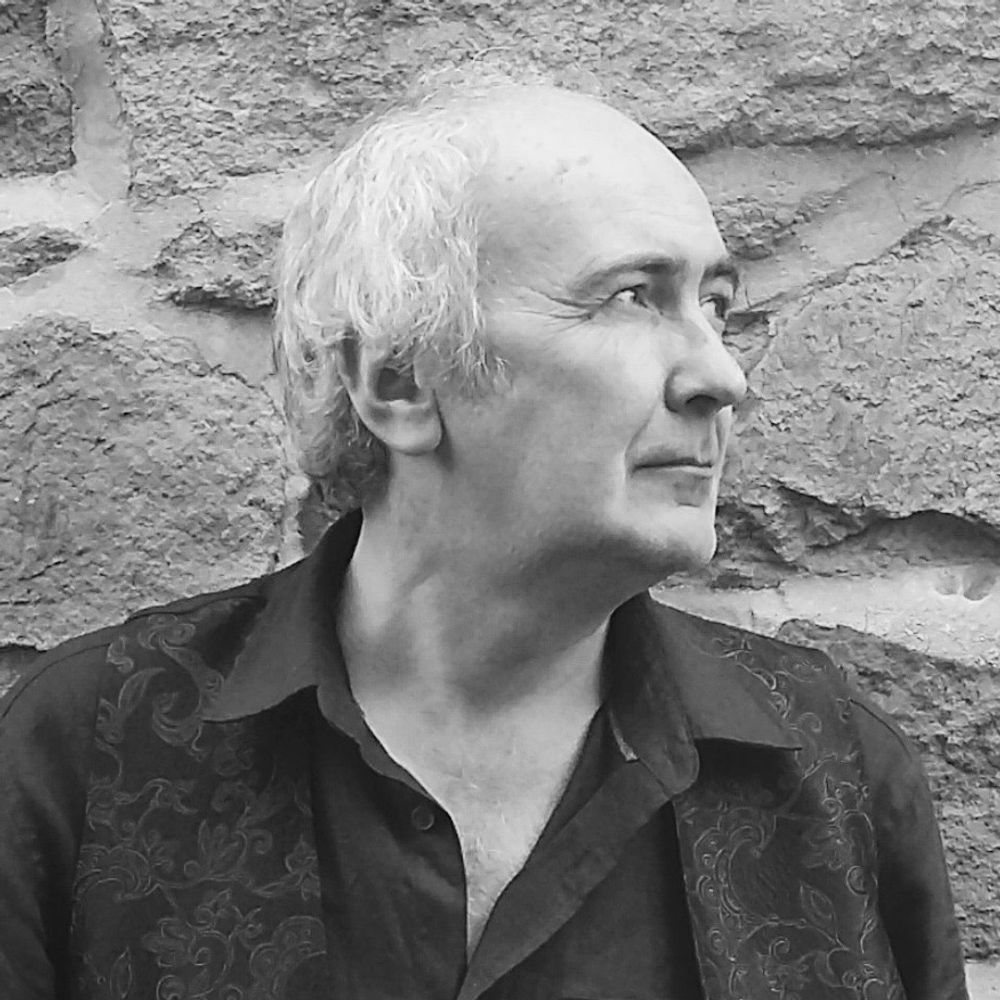 Hello, my name's Paul Cromford.  I'm an English composer, songwriter, arranger, multi-instrumentalist and singer, based in Buxton, Derbyshire; my output ranges from little old-school pop songs, through experimental soundscapes, to symphonic pieces.  Currently I divide my time between making new recordings, remixing tracks from my backlog, and devising new live shows for the best presentation of my work. 
The first five decades of my life were spent absorbing music from radio, records & gigs, while I quietly studied irrelevant topics at school & college, or did many different jobs to make money for other people.  Finally, in around 2008, I decided I'd had enough of that and began giving priority to my own creative impulses.  Since then, I: 
played hundreds of gigs up and down Britain, mostly with my wife Carole, sometimes alone, a few times with a band around me; 
wrote (or polished up) & recorded hundreds of songs, instrumental pieces and experiments; 
masterminded a sell-out series of musical shows at Buxton's Festival Fringe in 2013; 
recorded & mastered an 'official' concept album in 2014, which was released and well received in 2015; 
devised an ambient soundscape to accompany the grand switch-on of Buxton's Christmas lights in 2015; 
wrote and scored a large-scale orchestral work in 2016, a cyclic symphony in four movements; 
developed and recorded (between 2012 and the present) an ongoing series of radical re-arrangements of many of Burt Bacharach's best-known tunes; 
premiered a new show of live, pared-down acoustic performances entitled 'Paul Cromford's Vanity Set', in the spring of 2018. 
wrote and performed another new show entitled "The Ancient Pull" which explores our relationship with the moon, and which garnered a nomination for Best New Writing at Buxton's 2019 Festival Fringe.
completed a new collection of recordings --- studio-rendered versions of my Vanity Set songs (described above).
When music-making in the studio, I am my own boss; over the years I've accumulated all the tools I need for the work I do, and I've become totally self-sufficient.  Having written the raw material, I then arrange the instrumentation, devise the vocal harmonies (if any), program my sequencers for the virtual instruments, record myself playing my real instruments and singing all the vocals, mix the multitracks down, editing wherever necessary....and master the finished mix. 
Apart from my creative diversity, what makes me different from most other musicians?  Probably the same thing that makes you so different from most of your friends: the personality in your skull!  The music in my head bears little resemblance to the sort of stuff I hear peddled all around me, and my recordings are an accurate reflection of that inner music.  As you can hear from the samples on my Music page, my mixes are three-dimensional and my masters are full-bodied without being a "fat sausage", because that's how they sound in my head, and I taught myself from scratch how to do this.  I also still possess a pair of the best audio-processing ears in the world, and that comes of NOT assaulting them with high-volume rock music when I was growing up.  This appears to be a rare achievement for someone of my generation.
So what's next for me?  Well, I'm making plans to take my show  "The Ancient Pull" out and about in the region, and to make a studio recording of the whole thing; watch this space for more information.  Also in preparation (for starting in February 2020) is a series of podcasts offering a window into the world of Cromford (the man, not the village).
Stay groovy, 
PC